EARLY AUG '99: Our first two awards, from the Meditative cat Monday & CatAnna, after a mere two weeks! MiAoW!!! One for "concern for animal welfare", and the other for "a fun site for cats & cat lovers". Click on the awards to visit their cyberhome with many more cool cat links:
| | |
| --- | --- |
| for kat welfare | for being kat-thartic |

MID AUG '99: We've received the Kipper Cool Site Pick Award from the american Kipper kid (no relation), for "kippericity and being kipperocious" (very important behaviour). Click to visit his kool kids play area. Cindi at the Colorado Cow Camp has also given us her award for being mad kows. Click to enrol at Camp: it's a mad, mad place!
| | |
| --- | --- |
| for kippericity! | mad kow award! |

LATE AUG '99: From top Canadian webpage designer Krista, we've received Krista's Cute Award. Krista's Tomb, her personal webpage, is reminiscent of a Lara-Croft-lost-in-the-bowels-of-the-pyramids-scenario. Pretty smart! Check it out. Panther & Twister have also given us their Favourite Cat Site Award - funky, & they really care for creatures (they're moving house at the mo, the link may not work til mid Sept '99):
| | |
| --- | --- |
| for being kute! | loved and kool! |

EARLY SEPT '99: Mac & Levi's Cathouse have given us their cool site award! Visit them for kittenish fun including a new cartoon everyday!
for being kool kittens!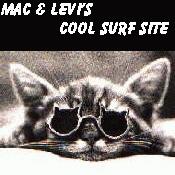 If you would like to give us an award, please email us by clicking on the MysticMog button below, attaching your award, or directing us to your site. As you can see, we'll say nice things about you if we display your prestigous award here: